News
Big interest in digital attendance records
5 november 2015
During the morning on November 5 a breakfast seminar was conducted focusing on upcoming legislation regarding digital attendance records in the construction industry. The breakfast seminar was held at the Construction Logistics Center in Stockholm Royal Seaport and attracted an audience of some 60 people.

The seminar began with Jesper Lundgren from Prolog welcoming everyone and then handed the baton on to Fredrik Bergman of City Development Administration. Fredrik presented the activities of the Royal Seaport and the current work with ID06 handling. After this Conny Svensson and Johan Dufva from Skatteverket presented the background and purpose of the new legislation on digital attendance records.
Digital attendance records is already a requirement in other industries such as restaurant and hairdressing. From 1 January 2016, the rules of digital attendance records also concern the construction industry. The purpose of using digital attendance records also in the construction industry is to promote healthy competition and combating illicit work.
The law means that electronic registration of persons active on construction sites will be required. These records will then be available to the developer and Skatteverket at inspection visits.
The presentation from Skatteverket was followed by a large number of questions which, among other things, revealed that registration need not occur during loading and unloading as well as for people who are not active.
After Skatteverket's presentation, Jens Landén from Infobric went on stage and presented the technical solutions available to simplify the registration of persons in the workplace. Jens presented Infobric products where electronic registration of persons is simplified by using a "Registreringsbox" and mobile applications.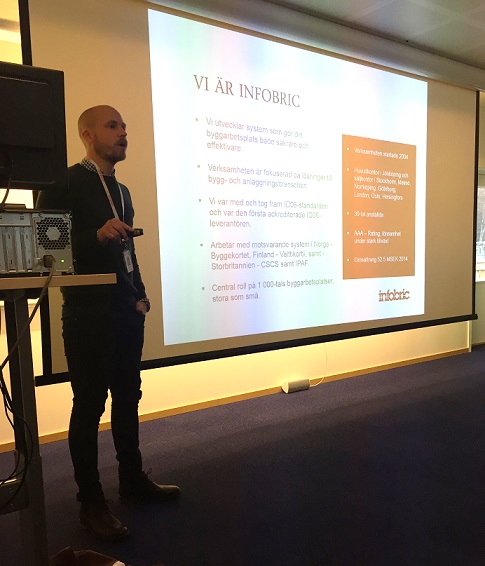 Thanks to all participants for your interest!